Words: Will Stroude
Get in loser, because Ariana Grande is about to release what we suspect might be the best pop video of the year.
The US pop singer, whose scored a third week at the top of the UK Singles chart with her empowering break-up anthem 'Thank U, Next' last Friday (November 23), has been teasing her latest single's star-studded new video on social media over the last few days, and now we've got our first proper look at the absolutely inspired new visual.
Based on what we've seen from Ariana's Instagram feed so far, the 'Thank U, Next' video is set to parody early noughties teen comedies including 'Bring It On', 'Legally Blonde', and 2004's Lindsay Lohan-starring Mean Girls, and Ariana released a hilarious new trailer based on the latter on Tuesday (November 27).
November 27, 2018
The incredible teaser recreates a memorable scene from the film as celeb figures including Troye Sivan, Jonthan Bennett - who played man candy Aaron Samuels in the original film - and actress Stefanie Drummond, best remembered as the girl who bought army pants and flip-flops because Regina George bought army pants and flip-flops, share playground gossip about Ariana.
The 'Thank U, Next' video's star power isn't set to stop there, however: Legendary actress Jennifer Coolidge - best known for her role as Stifler's Mom in the American Pie movies - is set to reprise her role as Legally Blonde's ditzy nail technician Paulette for the video, which is expected to drop in the next couple of weeks.
It truly looks like Ariana's imperial phase is here, and we couldnt' be happier.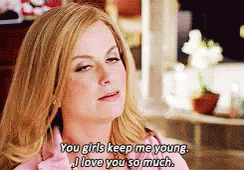 Check out more of the pics Ari's been sharing from the set of the 'Thank U, Next' video below:
View this post on Instagram
View this post on Instagram
View this post on Instagram
View this post on Instagram
View this post on Instagram