This article first appeared in Attitude issue 309, June 2019
It was a Saturday night and the central heating was stifling. I must have been home for Christmas vacation from university.
I have no idea why the video for Christina Aguilera's 'Beautiful' was on the television at my grandmother's house, perhaps it was an advert for the album during Blind Date. But on it was. And of course they showed that bit. The section where two men lock lips.
"Disgusting," my grandfather commented.
I knew, in that moment, there was still work to do.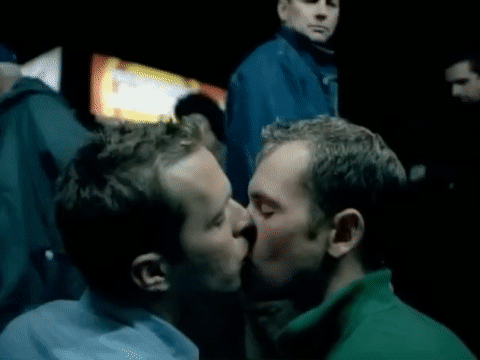 Sung by a cis (presumably straight) woman, but, vitally, written by 4 Non Blondes' Linda Perry — a lesbian — the lyrics aren't outwardly specific to the LGBTQ experience, but it doesn't exactly take a massive leap of imagination.
It's a reminder of one's inner value in the face of persecution or ridicule: "I am beautiful, no matter what they say, words can't bring me down."
Idealistic perhaps, but a new and unexpected rawness and crackle in Aguilera's usually bombastic vocals sold it.
From the opening whisper of "Don't look at me..." the song builds and builds into a command to whoever her tormentor is: "So don't you bring me down today."
If the song was universal, the video (directed by frequent Gaga collaborator Jonas Åkerlund) made sure to spell out the specifics.
P!nk (another Perry protégé) had set the tone with the previous year's M!ssundaztood, creating a new sub genre of gritty, honest female pop.
Aguilera, in a move to make her image more mature, uses the video for Beautiful to dissect body image and bullying, alongside the aforementioned gay couple (Jordan Shannon and Justin Croft) as well as a transgender woman — portrayed by Constance Cooper, who is thought to be the inspiration for Denis O'Hare's character in queer-friendly American Horror Story.
Aguilera directly addresses the audience in the second chorus: "You are beautiful, in every single way."
Perry's message to the listener is outward facing. It was an interesting time for queer inclusion. This was, depressingly, still a time when a gay kiss on Dawson's Creek, Will & Grace or in a t.A.T.u video actually made headlines.
Croft and Shannon's snog is a full-blooded, tongue-filled pash, but their hand-holding is intimate, tender and loving. The fact that they continue their embrace in the face of disgusted passers-by was revelatory to my little group of queer chums.
The whole video felt like activism - not bad for a former Mouseketeer. One suspects that was the intention.
A slew of empowerment pop songs followed, from 'Firework' to 'Born This Way' but none felt as authentic. Such songs are easy to mock (exhibit A: Daniel Franzese's character, Damian, being pelted with a sneaker while performing it in Mean Girls), but listen to 'Beautiful' again: Almost 20 years later, it still gives me goosebumps.